False, there is no evidence that COVID-19 is transmitted through food.
COVID-19 is not a foodborne disease. There is no evidence that a virus in or on food or drink will result in someone being infected.
COVID-19 is spread mainly through person-to-person contact and respiratory droplets that are produced when a person coughs or sneezes.
It is recommended you thoroughly wash your hands with soap and water before and after handling fresh produce. Washing fresh produce with water only is best practice to avoid infection.
WASHING & DISINFECTANCTS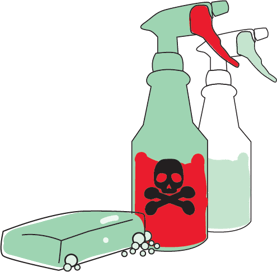 MYTH 2:

I SHOULD USE SPRAYS AND SOAPS TO CLEAN MY PRODUCE

False, sanitizing produce is not necessary.

Food Standards Australia does not recommended the use any cleaning products when washing produce. Residues of cleaning products can be left on the produce which can be toxic and extremely dangerous when consumed.

Foodborne spread of COVID-19 is unlikely when produce is properly handled and cooked. CSIRO Australia recommends for fruits and vegetables to be thoroughly washed in water only. Ensure your hands are being continuously washed when preparing produce.
IMPORTANCE OF EATING FRESH

MYTH 3:

ISOLATION IS THE PERFECT OPPORTUNITY TO INDULGE IN UNHEALTHY FOODS

False, the consumption of fresh produce is important now more than ever. It's not new news that the consumption of fresh fruits and vegetables are imperative to a healthy lifestyle.

Accredited Practising Dietitian and Nutritionist, Jemma O'Hanlon encourages Australians to support our health by using fresh fruit and vegetables. The vitamins and minerals help boost our immune system.

By continuing to eat fresh, you are not only supporting yourself and your loved ones health but also Australian farmers.

Share your fresh creations with #JoyofFresh #PerfectionFresh